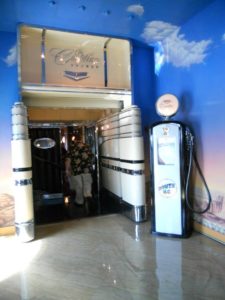 I had the opportunity to tour the "Disney Wonder" before she headed back to Alaska, where she has been sailing since May.
The "Disney Wonder" being 13 years old was not showing her age at all!  It is has a modern but classic ocean liner feel with a touch of Disney through out.
The Disney Cruise Line does cater to families of all ages and does have areas of the ship that are adult only sections.
One of those areas is Route 66 which after 9pm becomes the adult only area. It has a nightclub, plus there is Cadillac Lounge which is a piano bar and Diversions which is a games room lounge.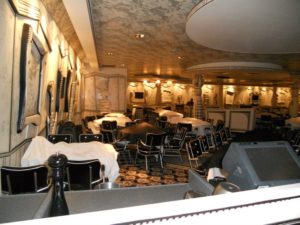 There are 3 main dining rooms and unique to Disney they offer rotation dining. You have your set dining time, table number and wait staff but each night you eat in a different restaurant.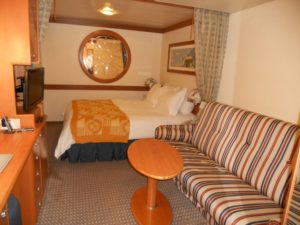 One of the restaurants is Animators Palate which when at the start of the meal everything is black and white but as the meal progresses the room becomes more colorful. You will notice in the photo the tables were covered but they wouldn't let us peck to see what was underneath. 
The staterooms were a good size and fit 4 passengers comfortable. In the Deluxe Insides and Ocean view cabins they have a split bathroom so that if someone is using the shower there is still a toilet and sink to use. This is great when traveling with a family.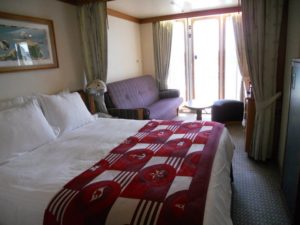 There are 3 pools to cater to everyone. The 1st is the adult only quiet pool with its soft music and comfortable loungers. The center pool is the family pool with a jumbo screen on the funnel where they show movies and cartoons all day and into the evening. This pool also has a retractable dance floor so at night they have deck party here. The 3rd pool is the children's pool with water slide and baby splash pool.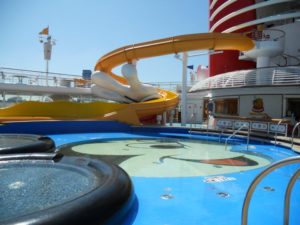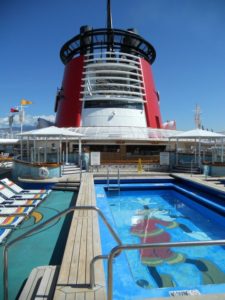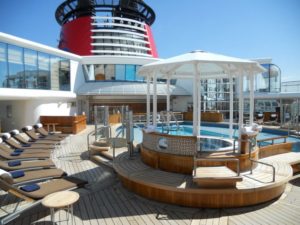 When we were making our way off the ship, passengers were embarking and that is when the Disney staff went into action. Each family group was announced as they entered the atrium and the staff clapped and cheered as Snow White waved from the balcony and Goofy hugged the little ones that squealed with excitement. I can just imagine what great family memoirs are gong to be made in the week onboard the Disney Wonder.